Regular price
Sale price
$34.00 USD
Unit price
per
Sale
Sould out
In stock 468
Share
View full details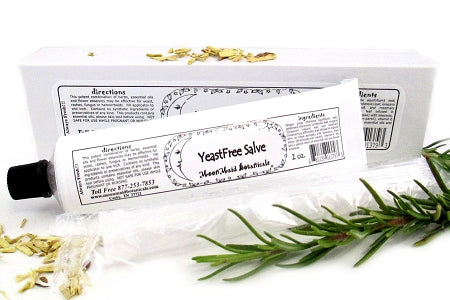 YeastFree is a potent goldenseal salve with tea tree salve, thuja and lavender essential oil, used for yeasty conditions!
Organic olive oil infused with goldenseal, rosemary and thyme offers a strong medicinal oil that is then blended with essential oils and flower essences.  This salve is loved by women who have recurring vaginal issues. Additionally it has been found useful for itchy topical skin conditions.  In the over 26 years in business, this is consistently one of MoonMaid's most sought after products.  
These herbs and essential oils are know to be anti-bacterial and anti-fungal.  Packaged in a two ounce tube.  Includes an applicator.  Used for 3 - 7 days or until tube is empty.  
PLEASE READ NOTES ON PACKAGE LABEL.
This product and description are for your information only.  This is not to be taken as medical advise.  Always consult your physician before using an herbal formula.