Regular price
Sale price
$29.00 USD
Unit price
per
Sale
Sould out
In stock 554
Share
View full details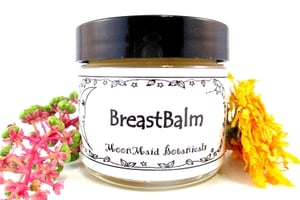 BreastBalm 
is a poke root & St John's Wort oil salve.  It is soothing and perfect for regular breast self massage.  NOT APPROPRIATE FOR NURSING MOMS!
Poke root is powerful lymphatic cleanser and St. John's Wort oil an amazing anti-inflammatory.  

When massaged into the tissue of the breasts and underarm lymph nodes, women report that their breasts do not feel so "full or lumpy."  

Poke root is also known to be helpful for fibroid and fibrocystic lymphatic issues.  

Women with ovarian cysts and endometriosis have used this product for abdominal massage.  

This product will last a good long while, smells great and will help you to be in touch with "the girls."
NURSING MAMAS THIS IS NOT FOR YOU! 
These products and statements have not been evaluated by the FDA.
Always consult with your doctor when using herbal products.